Great Gifts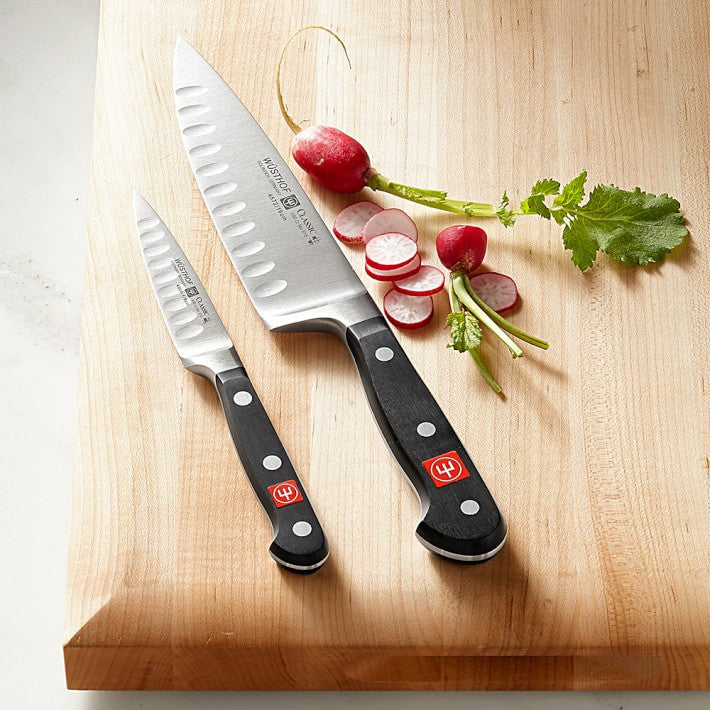 If you are looking for a thoughtful gift for a loved one who enjoys food and cooking, look no further.  Here are some of my favorite ideas for culinary-themed gifts, covering every budget!
Knives: "Dull knife, dull chef".  Truer words were never spoken.  Even someone who knows what they are doing simply cannot operate with bad tools.  Knives are a wonderful investment and a generous gift (you will be thought of every time they cut anything!).  They may seem expensive, but good ones will last you 20 years, and get used every single day.  Plus, there really is no need to get every knife in the set.  A Chef's knife, paring knife and serrated knife are a great start, and you can add to their collection as you find a specific need (like a long thin boning knife for butchering raw meat). Some excellent brands are Global, Wusthof, Henckels and Shun.
Click Here to View My Favorites  
Magnetic Knife Bar- My favorite gift last Christmas! I have a serious aversion to storing much of anything on my kitchen counters, and those knife blocks are so bulky.  This is highly functional, keeping the knives safe and uncluttered while showing them off.  It will also give your recipient instant chef street cred- this is the equivalent of hanging a framed Cordon Bleu certificate above the stove, but less pretentious.
Bench Scraper- Have you ever diced 2 or 3 onions on your cutting board and needed to get them into a pot on the stove, but dropped half of them on the floor instead?  You need a bench scraper, and so does every cook you know.  This is a super efficient tool to move chopped ingredients, and also a good way to get every last bit of something off your cutting board (minced garlic or chopped herbs come to mind).  The best models, like this one, also have measurement marks, much more consistent than using your thumb to determine 1 1/2" cubes.
High-end Condiments:  Oh, what a fun and endless category for gift giving!  Great quality olive oil, whether infused with white truffles or pure small batch Tunisian, is both useful and luxurious. Unique vinegars are fun to experiment with, drizzled on pizzas and roasted meats, or to jazz up oil and vinegar salad dressings. Spice mixtures are a wonderful way to try on different ethnic flavor profiles, like ras el hanout from Morocco and za'atar from the middle east.  Or gift cool manipulated salts that have been smoked or blended with herbs and spices to add instant punch to food.
Soda Stream- I am taking a leap and assuming that if someone loves to cook, they probably love to entertain as well.  And there is nothing more suave than seating people for dinner and asking "sparkling or still?"...I feel like I am in Europe just thinking about it.  These on-demand carbonators allow you to always be prepared, without needing to lug cases of cans into the house and store them.  Plus, there are people out there who really dislike the taste of water (me!) and bubbly water with a little lemon or lime keeps me from complete dehydration daily. 
These gift ideas are solid, straight-forward and sure to be well-received.  If you are looking for some more creative or unusual gift ideas, check back next week!
---
Leave a comment
Comments will be approved before showing up.