Family Travel- Denver, Colorado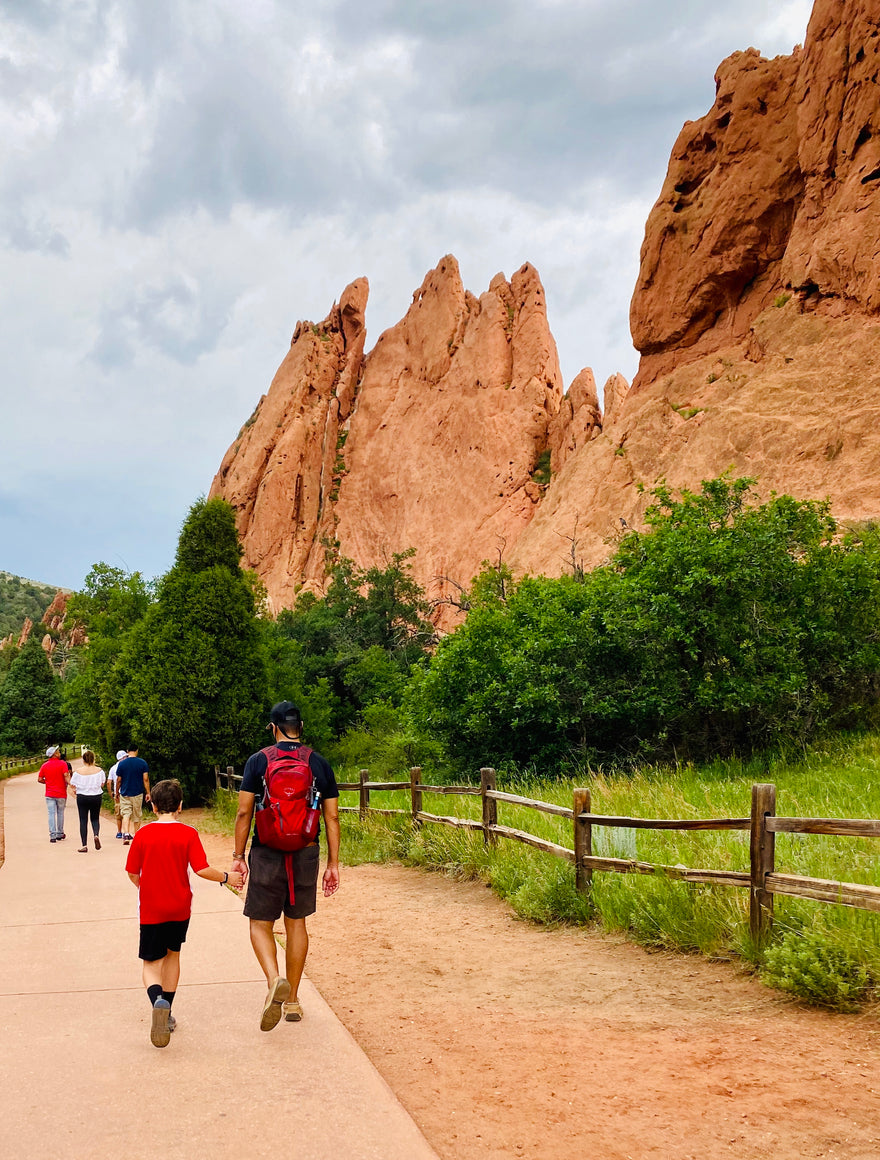 I'm going to be real- I adore my kids, but sometimes the thought of taking them on a big vacation fills me with dread.  I long to expose them to the wonders of the world and experience epic adventures together, but when a simple family bike ride on the Raleigh greenway is a struggle ("I'm hot!  I'm tired! I'm hungry!"), it gives me pause about taking them across the country.  But we did it anyway, and I was absolutely shocked because it was amazing.  With summer on the horizon and vaccines rolling out, I know I'm thinking about my next trip.  If you're itching to book a family vacation out West, here is a helpful breakdown of our itinerary for a successful trip to Denver, Colorado and Moab,Utah (in 2 parts).
Denver is an easy and inexpensive flight from Raleigh, so major points already as a family destination.  There are SO MANY things for families to enjoy together, and of course, they are plenty of adventures to be had adjacent to Denver as well.  Renting a home can be a great option for a family, but this time we stayed in the AC Hotel in downtown Denver.  It was in a vibrant part of downtown and conveniently walkable to the free MallRide trolley that spans the mile and a half between the Civic Center and Union Station itself.  There were also some great family-friendly restaurants close by, like Mici Italian kitchen (SO good!) and Sam's No. 3, a 1950's style eatery that was featured on "Diners, Drive-Ins and Dives" (Guy Fieri would never steer us wrong). 
For our time in Denver itself, we got the CITYPASS, which made for an excellent value and ease of entry. 
Here were our highlights: 
Denver Zoo:  So much thought has gone into even the layout and gardening, because the beautiful vegetation as we walked between exhibits was half of the appeal.  They have an incredible variety of magnificent animals from giraffes to seals to pink flamingos, but my favorite had to be the elephants.  We stopped for lunch with a view of their watering hole and got to marvel at their playtime while they splashed in the pond!  It was awesome.
Red Rocks:  The town itself is pretty adorable and only a short ride from downtown Denver.  We had a great dinner and enjoyed an old-timey ice cream shop before riding up to the venue and taking in the views.  As an added bonus, the kids wore themselves out running up and down the stairs.  Bedtime took care of itself that night.
Do not miss the Botanic Gardens.  Words absolutely don't do it justice.  Acres of gardens, some internationally inspired like the Japanese with bonsai and a Buddhist sanctuary, others with ponds and water features (and even a flock of newborn ducklings!), we probably enjoyed it more than the kids but they liked the freedom of the outdoors at least.
Garden of the Gods:  Is this the most beautiful place on earth?  It might be.  About an hours drive from Denver in Colorado Springs, craggy red rocks sprout from an otherwise evergreen mountainous area.  It's truly stunning.  This was our first hike, and very gentle, but the best part for the kids was climbing the rocks.  They treated it like one big jungle gym and didn't want to leave.
Union Station: A cool spot, fun to take in the architecture and history of the building (plus it still functions as a train stop).  Great restaurants inside as well as some a short walk away, like one of our absolute favorites, Hopdoddy Burger Bar.  Do yourself a favor and order the green chili queso with fries.  I would fly back just for that guilty pleasure alone.
Aquarium:  The kids liked it, but I've seen better and depending on the length of your visit, it's take or leave in my opinion.
After enjoying these Denver highlights and successfully relying on public transportation and uber while in the city, we rented a car and headed West.  The drive to Vail was 2 hours of the most dramatically beautiful mountain scenery I had ever seen, and there are several opportunities to add a hike along the way at Mt. Evans or Grays Peak.  Vail itself is a a unique place that's like a cross between a quaint Alps village and Rodeo Drive.  Meticulously maintained, with as much emphasis on shopping and high-end cocktails as biking, hiking and fly fishing, it truly makes for an awesome year-round family destination.  We enjoyed taking a gondola ride to the top of the ski slopes, renting bikes to ride along the river and walking through the villages surrounding the mountain.  Tivoli Lodge made a very comfortable home base for our family, with large rooms, luxurious bathrooms and a few kitchenette items to make your stay even more homey.  There was also a sweet 12 year old labrador who lives with his family (the owners of the hotel) on the top floor who could be found riding the elevator on his own.  We were told to press the button for the penthouse and he would know where to go from there!  So charming.  El Segundo was a perfect and affordable stop for family dinner (don't miss the queso fundido, and margaritas, obviously) and Joe's Famous Deli was an excellent choice for breakfast or lunch with a side of Vail memorabilia.
Overall, Denver and Vail were a 10/10 for enjoying family time, seeing beautiful sites and sharing memorable experiences.  Look for Part 2, where we head to Moab, Utah, for more family adventures in the next installment, and in the meantime, get to planning YOUR next trip!
---
Leave a comment
Comments will be approved before showing up.