Holiday Leftovers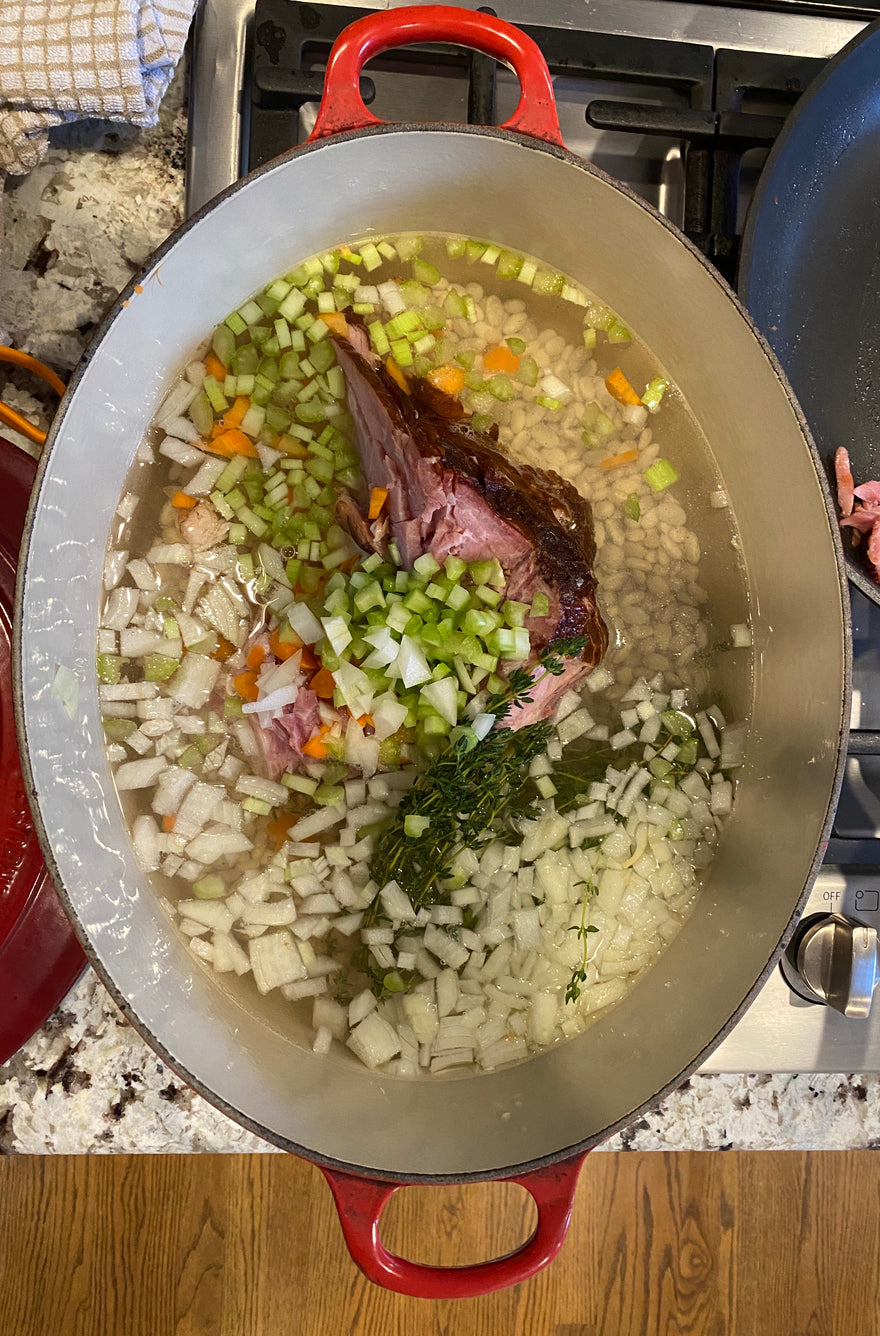 The holidays are a popular time to serve some of those impressive (and massive) proteins, like ham and turkey.  As delicious as they are, they have a tendency to languish in the fridge for a while taking up space, because really, how many sandwiches can you eat?  One of my favorite ways to re-purpose these giants is in a soup, which is also a great way to clear out other leftover misfit side dishes.  Plus, soup has a tendency to be filling but not heavy, nice for when your stomach is waving the white flag after weeks of festive gluttony.
Following our Christmas brunch this year, I was able to turn our leftover ham into one of my favorite batches of soup ever.  Instead of the traditional split pea, I substituted white beans (husband hates lentils) and added what vegetables and herbs I had on hand and the result was delicious!  Smokey and satisfying, with just a hint of sweetness, even the kids asked for seconds.  Try the recipe below and use what you've got on hand to make it yours!
Ham Hock & White Bean Soup
1 Ham hock plus any additional ham, chopped
1 12 oz. bag dried white beans
1 large or 2 small onions, diced
6 cloves garlic, minced
1-2 cups diced celery
1-2 cups diced carrots
2 cups white wine
1 bunch thyme
Salt, Pepper and Lemon juice or Apple Cider Vinegar, to taste
Additional Options- leafy greens, broccoli, cauliflower, green beans, rosemary and/or parsley (chopped)
In a heavy-bottomed pot, combine all ingredients and add water to cover.  Bring to a boil, then reduce to a simmer.  Cook, simmering gently, for 3-4 hours, until beans are completely soft, and all the meat has fallen off the bone.  Remove ham bone and thyme stems, and season to taste with salt (tread lightly, the ham is already quite seasoned!), pepper and either lemon juice or apple cider vinegar to add a brightening, acidic note.  Serves 8-10. Enjoy!
---
Leave a comment
Comments will be approved before showing up.