It's Corn Season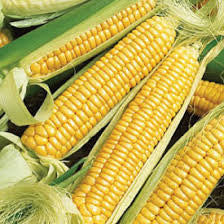 For most people, seasons are fundamentally associated with the weather, holidays  and activities they bring.  But for a chef, it's a little different.  In my world, summer doesn't mean swimming, sunshine and vacations- summer is all about ripe corn, tomatoes and peaches.  Today, let's talk corn.
Corn is one of cooking's most versatile ingredients, and definitely one of my favorites, but to be honest, I can't stand the most typical preparation, corn on the cob.  It basically exists solely to boost floss sales.  I almost never cook my corn- it is so sweet and tender right off the cob, and once you're down to the kernels only, there are so many ways to incorporate this beautiful vegetable.  I feel like Forest Gump once I get going about corn- corn chowder, corn salsa, creamed corn, corn salad- heck, I've even got a corn ice cream recipe (and it's awesome).  So here are a few ideas to get you going to the farmer's market, and enjoying this season's star.
Corn, Peach and Goat Cheese Salad
Serves 4
2 Ears Corn, kernels only
2 Ripe Peaches, cut into wedges
2-3 ounces Goat Cheese, crumbled
2 ounces Arugula
Juice of 1 Lemon
2-3 Tbsp. Extra Virgin Olive Oil
Salt and Pepper to taste
Fresh herbs like thyme, oregano, rosemary or basil, chopped (optional)
Toss arugula with lemon juice, EVOO, chopped herbs (if using) and salt and pepper to taste.  Add goat cheese and corn kernels and gently toss, then top with peach wedges.  Serve immediately.
Classic Creamed Corn
Serves 4
1 Onion, diced small
4 Ears of Corn, kernels only
2 Tbsp. Butter
1 Pint Heavy Cream
1 Tbsp. Chopped Thyme
Juice of 1 Lemon
Sweat the diced onion in melted butter over medium heat until soft and translucent.  Add corn kernels and heavy cream and simmer for 15 minutes.  Using an immersion blender, puree about 1/3-1/2 of the pot to desired consistency.  Add lemon juice and chopped thyme and season with salt and pepper to taste.
---
Leave a comment
Comments will be approved before showing up.