Quick Recipe- Chimichurri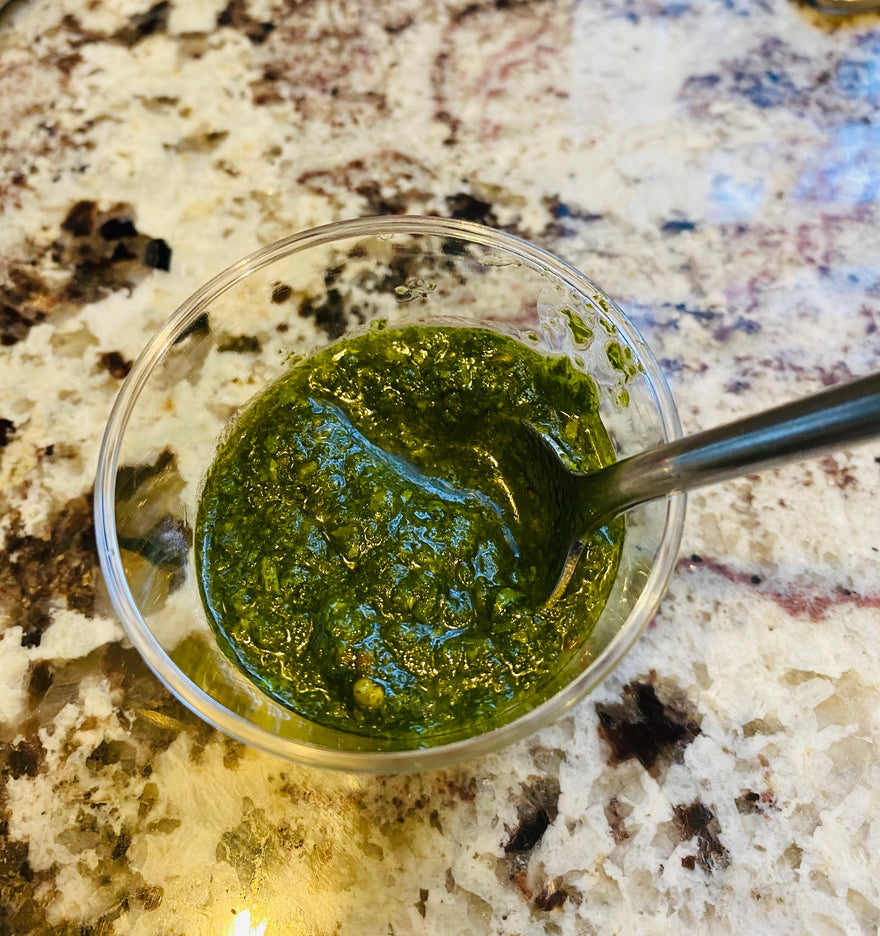 My husband was born and raised in Honduras and he attracts friends who, like him, have a Latin or South American background. Their favorite pastime is to gather around a grill to talk (loudly!), eat and drink.  For hours.  It's pretty much my dream come true, and even though I'm the only trained chef around, I've learned a lot from them over the years with their flavorful cultures and their affinity for grilling (even making their own grills-- seriously it's next level).   Here I was introduced to Chimichurri, the heavenly concoction of fresh herbs, garlic and oil that makes everything taste better, from meat and sausage to bread and potatoes.  It's so versatile and actually incredibly easy to make, especially if you have an immersion blender, so I highly recommend adding it to your rotation!  Here's my take on the classic recipe:
1 bunch Cilantro
1 bunch Flat Leaf Parsley
1-3 cloves Garlic (depending on how strong you like the flavor)
Juice from half a Lemon
1/2 tsp. Cumin
1/2 tsp. Red Chili Flake (optional)
2 tsp. Red Wine Vinegar
1 cup Extra Virgin Olive Oil
Salt and Pepper to taste
Thoroughly wash the herbs (believe me, a gritty chimi will ruin the party).  Cut the leaves from the herbs and very roughly chop, along with the garlic.  Combine with all remaining ingredients.  If using an immersion blender (highly recommended) use the "mixing/blending beaker" that comes with it, as the narrow width is perfect for mixing this amount.  Blend for 15-30 seconds, until saucy but still bright green in color.  Season to your taste, possibly adding more lemon juice, red chili flake or red wine vinegar to your liking.  Enjoy with everything from chicken to beef (I even use it as a marinade for chicken thighs before grilling them a day later).  It is best used within a day or two and honestly never even lasts that long in our house!
---
Leave a comment
Comments will be approved before showing up.