Quick Recipe- Pimento Cheese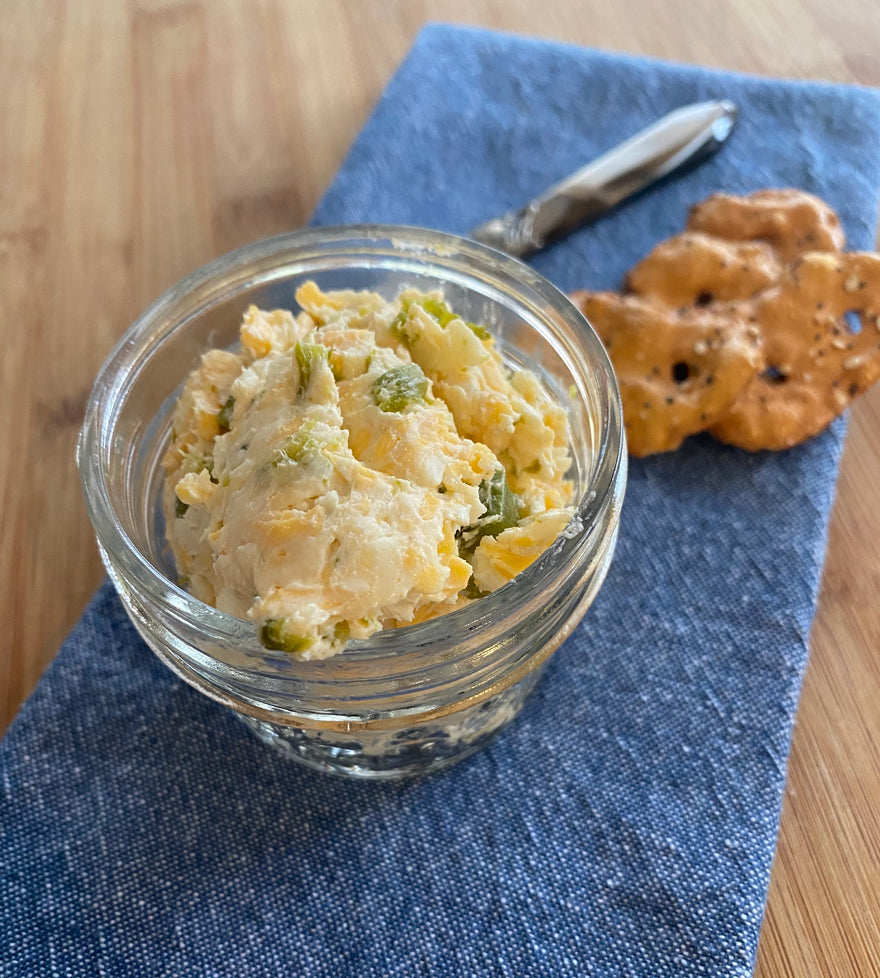 Pimento Cheese is quite possibly one of the best products to ever come out of the south.  With just a few ingredients, you can make magic.  I've always been a fan, but lately have taken liberties with the idea of the pimentos in my cheese by using roasted jalapeños instead of the traditional red bell peppers.  They have a great depth of flavor and spice, and combined with the smokiness of some chipotle pepper puree, I feel like I've come up with the perfect condiment for burgers, everything seasoned pretzels, potato chips or just a spoon straight into my mouth.  
Here's my recipe- it makes about a quart, which lasts approximately one day in my house:
8 oz. Cream Cheese, room temperature  (you can microwave it for 30 seconds or so to get it softened, try not to let it explode like I always do)
1/2 cup Mayonnaise (true Southerners swear by Duke's)
8 oz. Sharp White Cheddar
8 oz. Sharp Yellow Cheddar
2-3 Jalapenos (depending on size and heat)
1 Tbsp. Chipotle puree (or to taste)
First prep the jalapeños.  Place them on a rack in the oven about 2 inches under the broiler and let their skin blister, roughly 5 minutes per side.  Put into a bowl and cover with plastic wrap to steam for 5 minutes.  When cool enough to touch, peel the skin, cut off the top and scrape out the seeds.  I always taste a small amount to determine how spicy they are because jalapeños can vary wildly, although the smaller ones tend to be spicier in general.  Then dice and set aside the amount that you would like to use depending on how spicy you want your pimento to be.
 Using a hand mixer, blend the cream cheese and mayonnaise until smooth.  Add the cheese (hand shredded is best) and chipotle puree and blend for about 30 seconds to break down the cheese into the mix.  Finally, incorporate the jalapeños by hand and season to taste with salt and pepper.
---
Leave a comment
Comments will be approved before showing up.