Spain Part I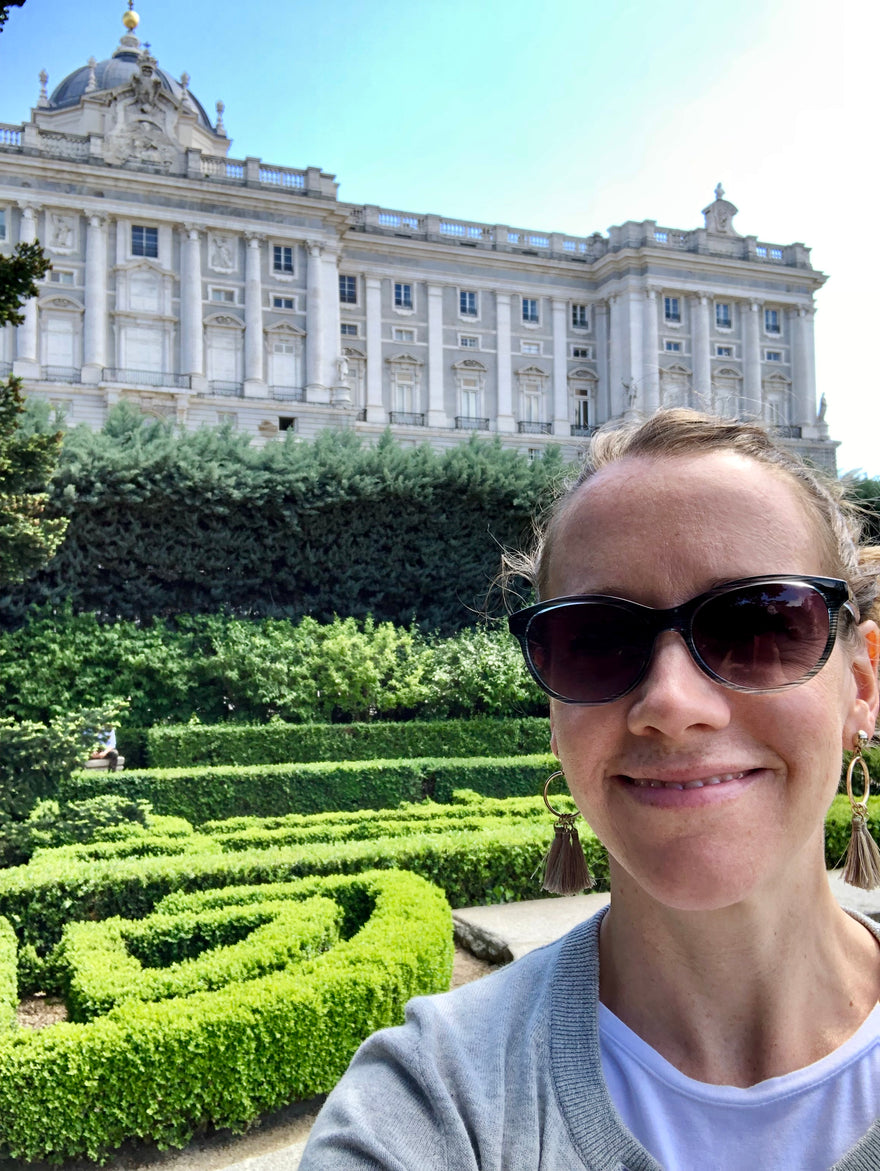 I recently returned from a whirlwind tour of Spain, and while we certainly didn't see and do everything the country has to offer, we sure gave it a shot!  There is nothing like travel for culinary inspiration and Spain offers incredible food, culture, architectural sites and natural beauty. We visited Madrid, Valencia, Bilbao and Rioja on this trip, and I am already hoping to go back and see more! 
In Madrid, the word "Real" is everywhere, and when I learned it translates as "Royal", it made perfect sense.  Madrid is a regal city, full of astounding architectural details, beautifully appointed parks, palaces, museums, churches, statues and fountains.  We made use of one of these gorgeous parks with a picnic breakfast of Serrano and Manchego, which we picked up pretty much first thing after landing (#Priorities).  Mercado de San Anton is one of several spots where you can find top tier food stalls, and that early in the morning we had the place to ourselves to gawk over the mouth-watering displays of hams, sausages, cheeses, desserts and more.  An even more grand food hall, Mercado de San Miguel, is located closer to Plaza Mayor, and boasts triple the real estate of prepared tapas and wine stalls, along with (of course) more meats and cheeses.
We were able to book 2 tours through Airbnb Experiences, which I had never done before but now highly recommend.  Seeing the city through the eyes of an expert is a perfect way to get acclimated, learn the history, see the highlights and ask questions, all without getting turned around and feeling like a clueless tourist.  We walked the city with Abel, who took us through Plaza Mayor, Palacio Real (twice the size of Versailles!), pointed out the original Islamic walls, and showed us the oldest continuously operating restaurant in the world.  We spent time in El Prado museum with Jaime, who used the art to tell the story of the Spanish royal family and the complicated history of Spain.  He also pointed out really interesting details in the paintings and showed how certain artists influenced later works and periods in art history.  It was great to have a mix of structured time with wandering- into the Royal Botanical Gardens, Temple Debod, Retiro Park and all along the busy streets of Madrid in search of Tapas and refreshments.  There is a strong café culture across Spain that makes it natural to stop for a coffee or a glass of wine and simply enjoy the always picturesque surroundings.
Dinner is late in Spain, so around 10pm we made our way to the streets of Cava Baja, the most authentic and lively area for tapas.  I will be honest, it is easy to be intimidated by the locals who know just how to position themselves in the busy bars, with limited or sometimes no table service.  If Tapas isn't your thing, there are wonderful full service restaurants as well. We found one that we loved, Amici's, which had quite an international staff- British expat owners, an Italian chef, but still plenty of traditional Spanish elements and delicious food (and cocktails!)
Where to Eat in Madrid:Mercado de San Miguel, Tapas on Cava Baja, Amici's Restaurant,
What to Eat: Tapas (Especially Jamon and Tortilla Espana), Wine from Rioja
Don't Miss: El Prado/Reina Sofia Museums, Madrid Palace, Walking Tour (guided or self-guided), Plaza Mayor
Next we took an easy high-speed train 2 hours to the east into Valencia.  This city is simply incredible.  Home to a centuries old city center with well-preserved ancient City Gates, a stunning Cathedral (which has a special area to house what may be the "Holy Grail" chalice), the Basilica (right next door to the Cathedral), the Silk Exchange, and the Mercado Central.  All gorgeous buildings to marvel at as you wander the vibrant streets of the Old Town, which also has ample shopping and many cafes to bide your time.
Another very important piece of Valencia is the outdoors and beach.  In the 1950's the city diverted a troublesome flood-prone river converting its' banks into a huge stretch of parks, sports complexes, gardens, and most notably, the "City of Arts and Sciences".  This "City" feels like a futuristic playground with architecturally stunning domes, bridges and pools.  Its' beautifully landscaped grounds house an aquarium, music venues, museums, theatre and event space, and is also a great place to relax and enjoy the outdoors.  This area also works to connect Old Town Valencia to the beach, especially by bike with comfortable and safe riding trails. The marina and beachfront are gorgeous, and a great place to do (more) shopping and eating.  In fact, we had our first Paella here, at one of Hemmingway's favorite spots, La Pepica.  It was a wonderful experience to try "the real thing", somewhat different than our American versions, which they have been making since 1898.
Really, all of Valencia is teeming with truly gorgeous architecture, narrow streets, and lively cafes with delicious and reasonablly priced food and drinks.
Where to Eat in Valencia:  La Saluadora (Old Valencia), La Pepica (Beachfront)
What to Try:  Octopus, Paella, Agua Valencia, Sangria,
 Don't Miss:  City Gates, Cathedral, City of Arts and Sciences, Bike Riding
---
Leave a comment
Comments will be approved before showing up.