Immunity Soup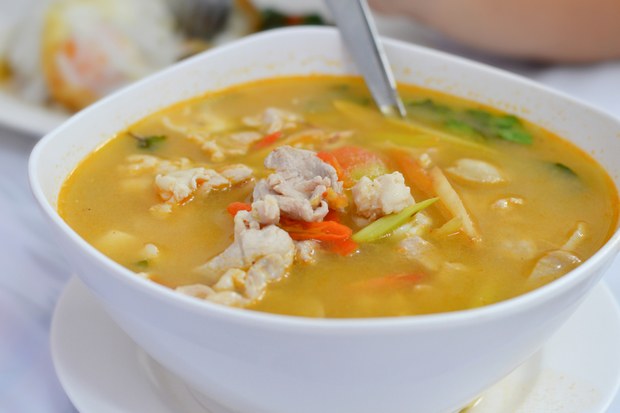 It's mid-August, and if you've stepped foot into a Target lately, you know what that means- school supply season.  Yes, the aisles are stuffed with cheery book bags, freshly sharpened pencils and the promise that before long, someone else will watch our children for 7 hours a day.  I mean, educate them.  As wonderful as it is to get back into a routine, there is a reason those school supply lists are also chock full of Clorox wipes, Kleenex and Lysol.  In an effort to get ahead of the germs that will inevitably be coming our way, I have a recipe for a soup that is perfect for boosting immunity (garlic, ginger and spice, the holy trinity of germ busting) and also comforting and delicious if you do get taken down by a nasty bug.  Make it this fall and say healthy!
Spicy Healthy Soup
Serves 4
1.5 lb. boneless, skinless chicken thighs
1 Tbsp. olive oil
2 large yellow onions, diced
10+ cloves garlic, minced
2 medium carrots, diced
2 stalks celery, diced
3" piece of ginger, peeled and minced
2 quarts chicken broth
Fresh lime juice (1/2 to 1 lime)
Fresh cilantro and/or mint, chopped
 3+ jalapeños, seeded and minced (these vary in spice, so taste them as you go and determine how spicy you want your soup to be)
In a medium sauce pot, cook the onion over medium-low heat, until soft and translucent.  Add the garlic, jalapeños and ginger and saute for 1 minute longer.  Add carrots, celery, thighs and broth and simmer for 30 minutes. Remove chicken and shred, then return to the pot and season salt and pepper, lime juice and fresh herbs.  Add cooked rice or noodles, if desired and enjoy.
---
Leave a comment
Comments will be approved before showing up.