You're On Vaca, But You've Still Got to Eat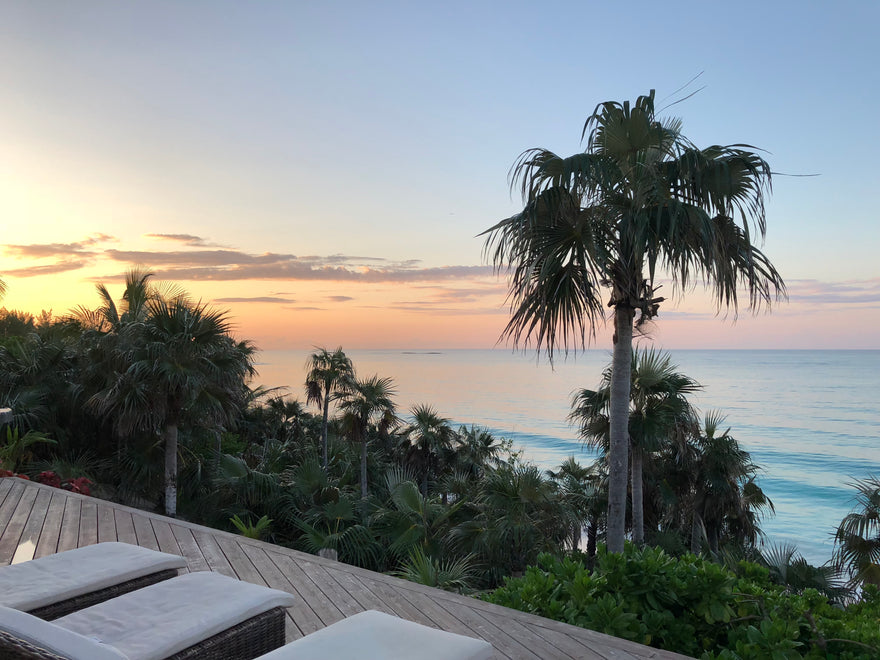 I recently had the pleasure of vacationing with my family in the Bahamas.  It was beautiful, it was relaxing, it was paradise, and guess what- we still had to eat.  Of course we took the opportunity to enjoy delicious local fare (like conch 105 different ways) and get a break from the kitchen.  But we, like most people I would assume, are not made of money, and at some point eating out for a week straight gets shockingly expensive- especially on a remote island.  No matter where you may be headed on vacation, there are some universal truths to vacation cooking, and I have a few tips here to help you out.
Truth #1: The Utensils Will Suck
  No matter how much is spent on the decor and knick knacks at a beautiful rental home, the utensils will be the worst.  Exhibit A- This was the Chef's knife at the (really nice and expensive) house we rented.  Seriously, it's missing a full inch where the tip should be, it's rust-riddled, dented throughout and dull. It's an excellent idea to take inventory of the pots, pans and knives before you go to the store so you can at least be prepared.  Nothing is more devastating than buying all the ingredients for the perfect pina colada to find out there's no blender, amiright?
Truth #2:  Everyone Eats Differently
These days, between allergies, aversions, picky kids and pickier adults, it can be really challenging to cook for a group.  It's definitely helpful to get a baseline of all the foods your fellow vacationers are avoiding before you plan your menus. Nothing worse than someone following a gluten-free diet being offered pizza and pasta all week long.  Also helpful- have everyone take turns planning and executing a meal.  That way no one person feels responsible for being the "chef" the entire time (unless they are a chef, in which case...).  It also gives people a chance to share their enthusiasm for the different/crazy foods they really like- scrapple, anyone?
Truth #3:  Options May Be Limited
Imagine doing the entirety of your family grocery shopping at a 1970s Circle K.  That's pretty much what I had to work with in the Caribbean.  It really takes some flexibility and creativity to make dinner under those circumstance.   But after doing our research, we found a farmer's market with fresh(er) fruits and vegetables, and we even bought local fish from some very questionable guys on the side of the road.  Even if you're not in uncharted territory, going local is always the best option to find the freshest product, usually at very competitive prices, and it sometimes makes for a great adventure along the way.
 I hope wherever you are headed for vacation this summer, you have a wonderful time! Keep these tips in mind, and maybe pack a knife (just not in your carry on).
---
Leave a comment
Comments will be approved before showing up.