3 Days in Dublin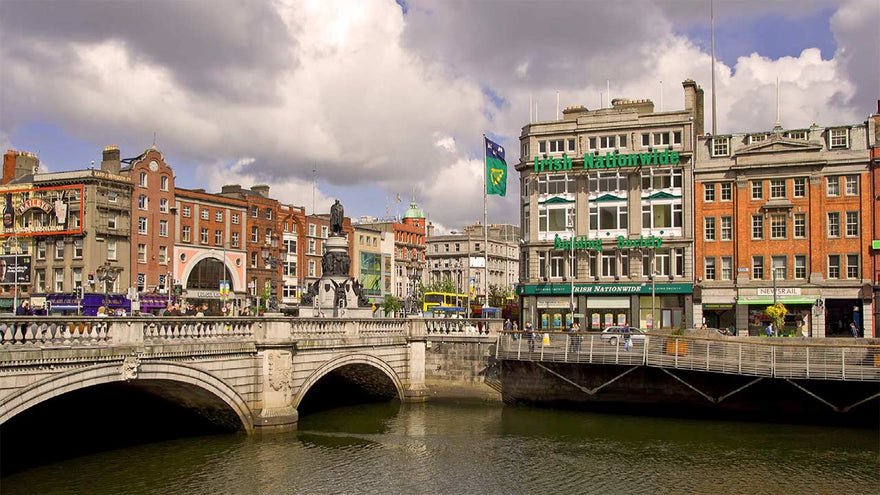 As I mentioned here last time, one of my goals for 2018 is to travel more.  Well, I got a jump start on that one in November when I tagged along on my husband's work trip to Dublin.  My kids are 4 and 6, and as precious as they are, they can also be a real obstacle to travel plans.  So in order to make this trip feasible, we had to consolidate a full European experience into 3 days.  Crazy?  Yes.  But totally worth it.  And Dublin is the perfect sized city for a 3 day tour.  In case anyone is in the market for a quick Irish jaunt (or just looking to live vicariously), here are the highlights and travel tips from our mini getaway.
Day One:  A 6:45am arrival allowed for a full first day!  After grabbing a taxi to our hotel and dropping off our bags, we walked to Trinity College for the first tour of the day.  The guide gave us a more personal glimpse of this gorgeous and historic Irish institution, followed by admission to the glorious Book of Kells.  These elaborate illustrated gospels date to the 9th century and are absolutely not to be missed.  We also saw the Long Room of the Trinity Library which holds thousands of rare and early volumes (as well as being an architectural marvel all on its' own).  Next up, we walked to the Archaeology Museum of Dublin, which was full of artifacts from very early Irish civilization.  The museum building itself was spectacular, and the exhibits gave us a lot of context of the history of Ireland, especially the ancient Viking connection.  After walking for miles and getting a feel for this beautiful and diverse city, we finally cried uncle and went back to our hotel for a short nap and a shower.  Once we were refreshed, we strolled to St. Patrick's cathedral, built (according to legend) on St. Patrick's favorite baptismal place.  Gorgeous is an understatement and for this former Catholic school girl, it was holy ground.  We finished our afternoon with a long walk to the Guinness factory, where we rushed through the exhibits to catch a beautiful winter sunset at the rooftop bar. To be perfectly honest, I wasn't overly impressed with the value proposition here- a 20 euro ticket gets you a self-guided tour and a pint of Guinness, and although it is touted as the best view of the city...meh.  Just my personal opinion.  We took our final trek of the evening across the city to our dinner reservations, at a quaint, tiny restaurant recommended to us by a Dublin friend.  It was outstanding!  We had a chef's tasting menu that was full of delicious surprises- innovative and impressive.
Day Two:  We started with a two hour visit to Kilmainam Gaol, a prison built in 1798 which now houses a tribute to the Irish Independence movement.  It was a great opportunity to learn more about the brave men and women who sacrificed so much to escape British rule in the 1920's, but also gave rise to the devastating and bloody Irish civil war that raged through the 20th century.  Our next stop was much lighter, a visit to the small fishing village of Howth, about a 20 minute train ride from Dublin.  The views from the cliff walk above the village were simply spectacular, and the town itself was absolutely charming and beautiful.  We enjoyed delicious seafood, like a creamy fish chowder, and huge Dublin Bay prawns in a spicy tomato broth.  Strolling through the town shops was a delightful way to spend an afternoon after such a spectacular meal.  We made our way back to Dublin and enjoyed an evening touring the pubs, because, hey it's Ireland.
Day Three:  This was our least structured day, an opportunity to fully immerse in some of the town's easy charm.  We walked through the main shopping district of Grafton St. and enjoyed a leisurely breakfast before making our way to Ha'penny bridge and the Temple Bar area.  I had wanted to avoid The Temple Bar area because I had been warned that it was touristy.  But, it turns out, we are tourists, and maybe it wasn't authentic Dublin, but we had a hell of a time.  The atmosphere was festive, the live music was incredible and everyone was having a blast.  It was also the only day that it rained, so a warm and cozy pub was the perfect place to wait out the storm.  When we finally were ready to move on, we took a walk up to Christ Church Cathedral and then found an amazing Moroccan restaurant near our hotel to enjoy dinner.  We watched the Irish rugby game in (yet another) pub, which was great fun for getting caught up in the excitement of the loyal fans with an Irish victory.
Overall, I absolutely loved our stay in Dublin and would reccommend a visit to anyone.  The city had beautiful architecture, an abundance of interesting sights, no language barrier and it was incredibly easy to navigate.  The food was phenomenal- which I was not expecting.  Whether it was upscale Irish fine dining, or the many international options, we were never disappointed.  The people were lovely and warm and everything from the flights and hotels to the meals and taxis was reasonably priced.  For a quick European getaway, Ireland really competes.  Now off to ponder my next adventure...
---
1 Response
Leave a comment
Comments will be approved before showing up.