Easy And Impressive Holiday Dessert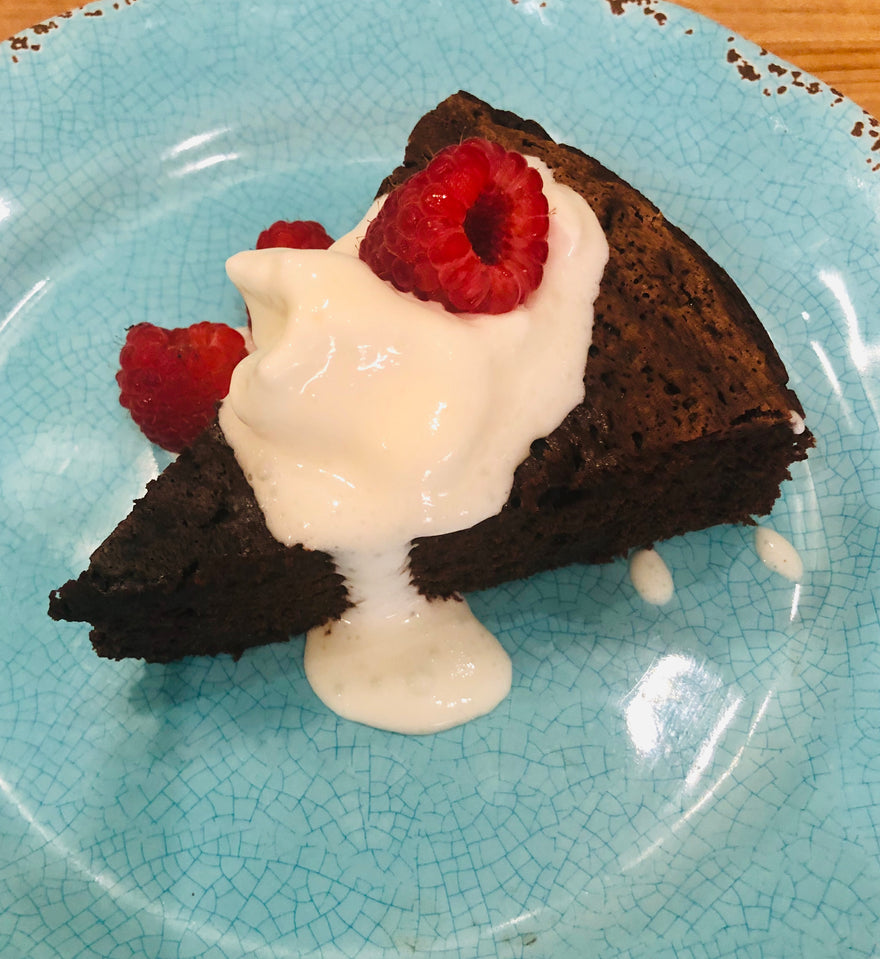 The holidays are prime time for indulgence, but let's face it, not everyone loves pie.  And not everyone can eat traditional pie since it contains wheat, whether it's made with a flaky dough or a graham cracker crust.   I was recently asked to make a gluten-free birthday dessert, and came across a brilliant recipe for a flourless chocolate cake that ticked so many boxes.  The obvious first one- gluten-free, which is becoming a more common request all the time; the second- relatively easy to make (when you're cooking several other courses, this is huge); and the most important- delicious and most definitely worthy of a special occasion.  With so many holidays on the horizon, it could make for a perfect new addition to your dessert table.
Here's a breakdown of the recipe, with some helpful tips and references.  
Flourless Chocolate Cake
12 oz. Bittersweet Chocolate
12 Tbsp. Butter
1/2 cup Sugar
6 Large Eggs
Pinch Salt
The first step is to cut your butter into chunks and put it into a stainless steel or glass bowl along with the chocolate, then put the bowl on top of a pan of simmering water.  This is called a bain marie, which is often referenced in recipes and sounds fancy but is really simple.  This will melt the chocolate and butter without any risk of burning the chocolate.  The bowl gets very hot, use caution when gripping it while you occasionally stir the mix to ensure even melting.  When it is completely smooth, set it aside to cool slightly.
Next, combine your eggs, sugar and salt in another bowl and whisk for 5-8 minutes, until pale and thick.  And just FYI, you don't need a fancy stand mixer to do this.  Sure, I feel like a schmuck standing there for those never-ending 8 minutes holding my $10 Hamilton Beach mixer, but I do this approximately twice a year, it's not going to break me.  Plus I'm really averse to extra equipment on my counter (and spending hundreds of dollars).  So all I'm saying is don't count yourself out if you don't have the gadgets.
Then fold the chocolate-butter into the whisked eggs mixture, one half at a time.  Folding is another fancy-ish term for gently mixing, using a spatula and an up-and-over movement, so that you don't bash out all the air you just spent 8 (long) minutes whisking into those eggs.  Here's a video for you visual learners out there.
Finally, pour your batter into a 9" springform pan (like the kind you use for cheesecake) that has been thoroughly coated with non-stick pan spray.  Cook at 350* for 35-40 minutes, until the top is no longer shiny and there is only a slight jiggle in the center of the cake.  Cool completely, then release the springform pan.  The cake is dense and rich, so you can easily get 8 satisfying servings from each recipe.  I served mine with a simple homemade whipped cream and fresh raspberries, but you could pair with butterscotch, fresh berry sauce, coconut milk whipped cream or ice cream of so many flavors- coffee, pistachio, peppermint...Chocolate works with just about everything!
I love this cake because there are so few ingredients, it's simple to make, it's gluten-free and chocolate.  Let me know if this cake makes an appearance on your table this holiday season!
---
Leave a comment
Comments will be approved before showing up.