From the Recipe Vault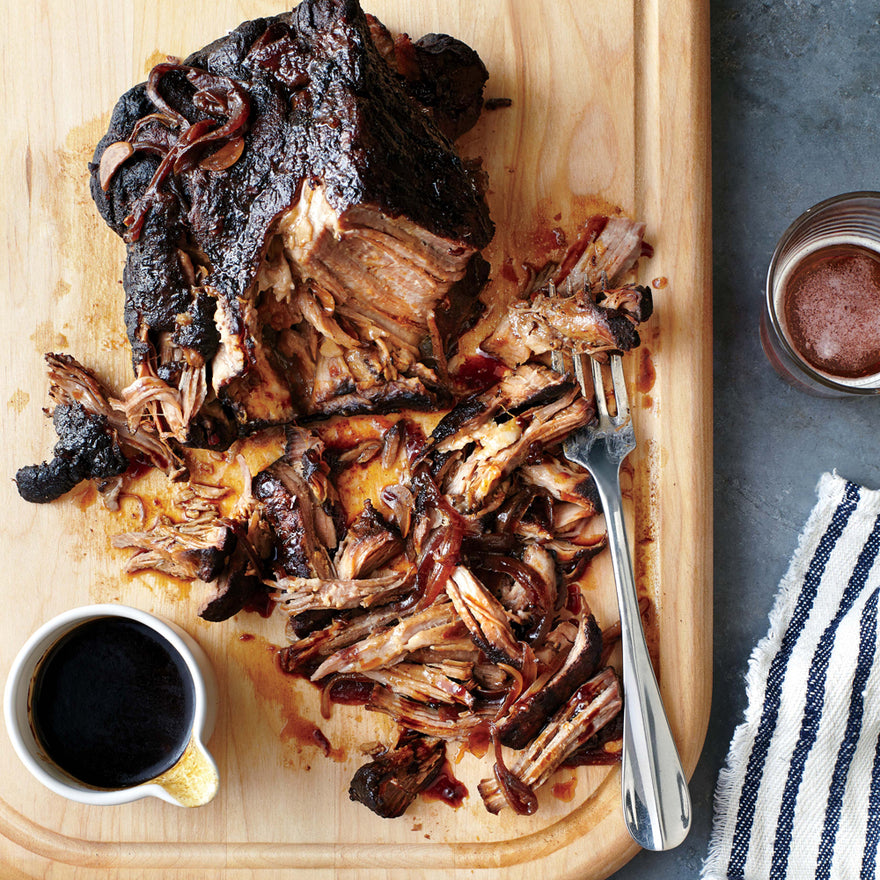 There are some advantages to being a packrat.  I recently came across a recipe that I  pulled out of a magazine in July of 2014, and thank goodness because it was so good, or as one of my chefs used to put it, "State Fair Good".  I have cooked many a pork shoulder in my time, but this recipe added a few specific pointers that are worth mentioning.  For example, the addition of mustard as a the base of the rub is not just flavorful, but it penetrates the meat and allows the rub to stick to the pork perfectly.  The recommendation to let it sit overnight before roasting allows the flavors to meld, and roasting it partially covered for the final 2 hours means beautifully brown pork without the risk of burning.  Using a thermometer to achieve the final temperature ensures that the meat fibers and collagen are broken down to utter tenderness, which is the whole point of low and slow cooking.  Finally, the encouragement to really be patient and allow the meat to rest ensures the crust will soften and be more evenly distributed in the final pulled meat.
The result of all of this wisdom is exceptionally flavorful, tender and rich pork that is just what you need in your fall recipe arsenal.  Worth sharing and definitely worth holding onto for many more years...
Scott Peacock's Pulled Pork (from Better Homes and Gardens, July 2014)
Makes 20 servings
6# bone-in pork shoulder blade roast
3 Tbsp. dijon mustard
1/3 cup packed brown sugar
3 Tbsp. kosher salt
2 Tbsp. smoked paprika
1 Tbsp. chili powder
1 tsp. black pepper
1/2 tsp. garlic powder
Pat pork dry with paper towels.  Place on a large piece of plastic wrap.  Spread mustard on pork.  In a small bowl, mix together sugar, spices and salt.  Coat pork generously with spice mixture.  Wrap tightly in plastic wrap, place on tray and allow to marinate (overnight is best!).  Preheat oven to 325*.  Line a shallow roasting rack with foil.  Place a rack in the pan.  Unwrap pork, place on the rack and roast, uncovered, for 4 hours.  Wrap pork with a double thickness of foil and return to oven for 2 more hours, or until an instant-read thermometer reaches 190*.  Let pork stand for 30 minutes to 1 hour. Unwrap, and pull apart using 2 forks.
---
Leave a comment
Comments will be approved before showing up.